The Basics of Asphalt
We posted an article a few weeks ago on The Basics of Asphalt and thought it would be fun to create and continue a series for you based on the different aspects and properties of asphalt.  Today we'll be going over some historical facts concerning the emergence of asphalt and how it's come into predominate use to benefit millions today.
Asphalt Today
Asphalt is a very resilient material that's numerous beneficial properties lend itself to be used abundantly.  In the United States, it covers more than 94% of the paved roads and is used for driveways, parking lots, airport runways, racetracks, tennis courts, and in a wide variety of circumstances where smooth and durable driving surfaces are required.
Asphalt pavements have played a vital role in changing the landscape of the United States since the late 19th century;  subsequently affecting transportation, communication, and even history.  But how was it discovered, developed, and enhanced?
Asphalt Through the Ages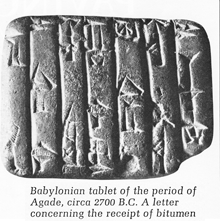 The first recorded use of asphalt as a road-building material dates all the way back to Babylon during the reign of King Naboppolassar around 625 B.C.  A Babylonian tablet was found that's inscription described the use of asphalt and burned brick being used to pave the Procession Street in the city.
History also shows that the Greeks were familiar with asphalt and its properties and the word asphalt actually stems from the Greek word "asphaltos," which means secure.  Romans would go on to use asphalt to seal their baths, reservoirs, and aqueducts.  Many centuries later, European explorers would discover natural deposits of asphalt in the New World.  Sir Walter Ralieigh was one such explorer and went on to use asphalt from Trinidad to re-caulk his ships in the 1590s.
It would take a few more centuries for innovators to experiment with using asphalt as a paving material.  First engineers and road builders would need to pioneer new techniques and use innovation to develop early roads.  Once early road designs progressed, the introduction of asphalt for roads and pavement lead us to where we are today.  We'll cover these developments further next week and see how asphalt went on to change the course of history.
Improvements in Asphalt Today
We hope you've learned something new regarding the history of asphalt and how advancements have lent themselves to the widespread benefits that asphalt now allows.  We're here for ANY and ALL of your asphalt questions and needs.  We are dedicated to the continued improvements in asphalt and using knowledge and technology to create increasingly better and more cost-effective options for you.
Call or Click Here for any Asphalt Questions or a Free Quote on your Asphalt Paving Needs TODAY!